We were looking for someone that we felt we could trust to take the ring and transform it.
Lorraine and Steve
I was amazed that a custom-made ring could be so affordable and having a local maker made the process very easy.
I was looking for someone to make my engagement ring and went to meet Loree following a recommendation from a friend. I'd never commissioned any jewellery before, but I'd emailed a picture of a ring I liked in advance of our meeting. Loree gave advice and feedback on the design and I was filled with confidence. I was amazed that a custom-made ring could be so affordable and having a local maker made the process very easy. Loree was great to work with and even masterminded a secret plan for my fiancé to surprise me with the finished ring. We didn't hesitate to go back to Loree when it came to ordering wedding bands and get a great deal of pleasure from wearing them every day.
Hannah and Callum
Loree took all the stress out of the experience and my wife Laken got the ring she had pictured from the very start.
Working with Loree towards customised wedding rings was a fantastic experience. Speaking as a man who had never worn any kind of ring before she completely put me at ease, going through the design process with her was interesting and exciting and it made us both proud to have unique wedding rings that no one else has. Loree is highly talented and experienced jeweller but despite this still took the time to understand us and what we wanted. This made the world of difference and meant we could connect with her and get the rings we truly wanted.
The number of compliments we have both received on our wedding rings speaks for itself and we couldn't have asked for anything more from Loree
Simon and Laken
I am beyond thrilled and it means so much that I have something different, unique and hand crafted.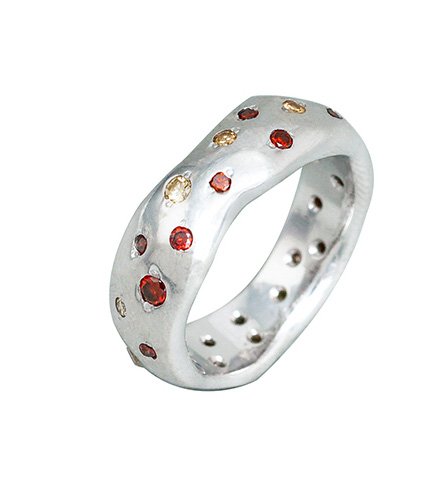 Isabella
.. I couldn't be happier with the result and it meant my grandma and grandad could be at the wedding even though they had passed on…
Mark
I had a picture, a great family story behind it and a big idea in my mind but no one to actually make it a reality for me. When we connected on a totally different level initially I knew it was a sign to speak to her more about THE ring
Marta
We are both extremely pleased with our rings and Loree's customer service cannot be bettered by anyone.
After seeing many of Loree's rings and jewellery it was natural for us to ask her to make ours. It was important for us to be able to incorporate the family history within the rings, due to being so close to my late Grandparents. My husband met with Loree over a few meetings and decided on the design. He and Loree both understood what he wanted and developed the idea from there. The ring incorporates my great grandmother and grandmother's engagement and eternity stones which have been set with a diamond which Loree sourced. We are both extremely pleased with our rings and Loree's customer service cannot be bettered by anyone. We thank you so much for developing and making our dream rings come true
Adam and Katherine